Recent Midwest Research Publication Summaries
Printed/Digital materials
Multimedia materials
Outside links

Printed/Digital Materials
Midwest Cover Crops Field Guide, Third Edition (MCCC- October 2021)
The popular Midwest Cover Crops Field Guide has been revised and is available from the Purdue Education Store. Individual guides are $6 and boxes of 25 guides are available for $135. Updates to the guide include recommendations for cover crop termination in unfavorably wet springs and planting green into cover crops. The cover crop species section of the guide has also been expanded to include white clover, forage brassicas, balansa clover, and several cover crops that are commonly used in a mix. Watch the video below to learn more about updates to the guide!
Soil and Water Conservation: A Celebration of 75 Years
Free E-book from SWCS Celebrates Past Accomplishments and Offers Insight into the Future of Conservation
Cover Crop Economics: Opportunities to Improve Your Bottom Line in Row Crops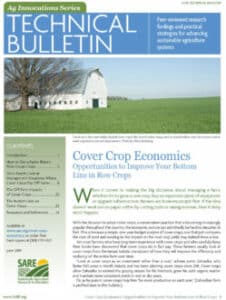 Integrating cover crops in soybean rotations: Challenges and recommendations for the North Central Region (MCCC- May 2015)
2020 National Cover Crop Survey (CTIC, SARE, ASTA – August 2020)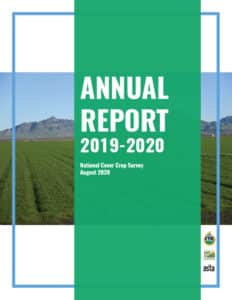 2017 Cover Crop Survey (CTIC, SARE, ASTA – September 2017)
2016 Cover Crop Survey (CTIC, SARE, ASTA- July 2016)
2015 Cover Crop Survey (CTIC, SARE, ASTA)
2014 Cover Crop Survey (CTIC, SARE)
2013 Cover Crop Survey (CTIC, SARE)
—————————-
Managing Cover Crops Profitably (SARE Handbook Series Book 9- 2007)

Cover Crop Materials and Video Spreadsheets (March 2016)
The following pdf spreadsheets were developed by a 5-member team of Extension Educators from the North Central Region as a way to help fellow Educators, conservation partners, and individuals interested in learning more about cover crops to have a listing of videos and materials which were broken out by topics as well as roughly ranked based on content relevancy to the overall theme of the video.  Those videos or materials ranking "higher" were seen as having more relevant scientific or instructional information for the viewer, while those with "lower" rankings generally were more testimonial in nature or provided smaller amounts of data or directly useable information to assist in educating the viewer.  Care was taken to attempt to not be overly extreme in critiques of the materials, but instead were designed to be used to help viewers with limited time determine where to start. These lists are not all inclusive.
Acknowledgements: The North Central Ag. & Natural Resource Academy Cover Crops team would like to acknowledge the assistance provided to us for this project by Dr. Eileen Kladivko, Purdue Agronomy Department;  the Midwest Cover Crop Council; various Midwest university specialists; and state conservation agencies and organizations.  Without their help and guidance this resource listing would not have been possible.
Outside Links
Natural Resource Conservation Service (NRCS) Soil Health 
Sustainable Agriculture Research & Education (SARE) Cover Crops Topic Room