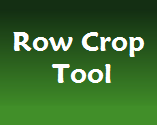 Our Vegetable Crop tool is under construction. We hope to have it functioning soon. Join our listserv or follow us on Facebook or Twitter to stay up to date on new resources.
MCCC Cover Crop Decision Tools
The Midwest Cover Crop Council (MCCC) Cover Crop Decision Tools are web-based systems to assist farmers in selecting cover crops to include in field crop and vegetable rotations.
An in-depth look at the revised decision tool with Babak Saravi, Ian Kropp with the Decision Support and Informatics Lab of Michigan State University and Dean Baas and Anna Morrow with the Midwest Cover Crops Council.
Recorded Wednesday, September 23rd
Note about wheat planting dates:
The calendar within the tool does not allow cash crops to span 2 calendar years (fall planting and spring harvest). For planning a cover crop after winter wheat harvest, enter a Jan 1 planting date and your anticipated harvest date. MCCC plans to resolve this in future iterations of the tool.
About the Cover Crop Decision Tools
The Cover Crop Decision Tools are an initiative by the MCCC to consolidate cover crop information by state to help farmers make cover crop selections at the county level. Information for each state/province is developed by a team of cover crop experts including university researchers, Extension educators, NRCS personnel, agriculture department personnel, crop advisors, seed suppliers and farmers. The team reviewed and refined information from the Sustainable Agriculture Research and Education (SARE)  publication Managing Cover Crops Profitably, 3rd edition to refine application within their state/province. The information and ratings contained in the Cover Crop Decision Tool is the team consensus based on literature, research results, on-farm experience and practical knowledge.
Acknowledgements
This project has been funded by: a Professional Development Program grant from the North Central Region Sustainable Agriculture Research and Education; a USDA Conservation Innovation Grant in partnership with the Conservation Technology Information Center; the Great Lakes Regional Water Program; Michigan State University's Project GREEEN; Michigan State University Extension/W.K. Kellogg Biological Station, Michigan State University; Purdue University; Ohio State University; University of Minnesota; Iowa State University; University of Nebraska; the Ontario Ministry of Agriculture, Food and Rural Affairs; and Grain Farmers of Ontario. The MCCC would like to thank SARE and Andy Clark, SARE Outreach Communications Director and editor of Managing Cover Crops profitably, 3rd edition for the use of their materials.